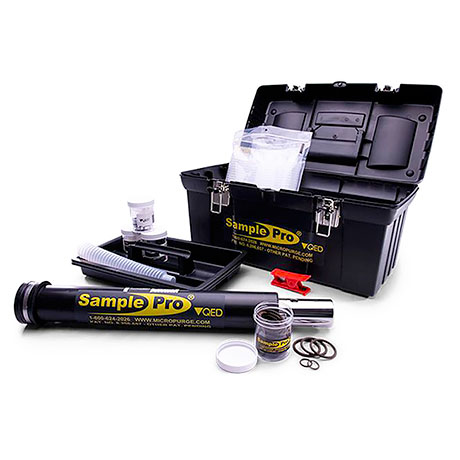 QED Bladder Pump
$65.00 Per Day
The Sample Pro portable pump combines the unparalleled sample accuracy and high reliability of a bladder pump in an easy-to-use design. It runs cool and can run dry without damage and can be operated using any QED MicroPurge controller options – The Well Wizard compressor, an external compressed air cylinder, or a lightweight backpack with integral CO2 cylinder.
The Sample Pro pump's reliability and low maintenance make it more economical to use. Its twist-open design makes it easy to change the disposable bladder in seconds. The compact 14.75" length fits in a bucket for easy cleaning between uses.
The Sample Pro pump is available in two diameters: 1.75″ (4.45cm) to fit in 2″ (50mm) monitoring wells or larger; and 3/4″ (1.91 cm) to fit small diameter wells and direct-push boreholes. Both pump models are capable of pumping from depths up to 200 feet (61m).
These pumps are to be used with either an MP-10 controller, Well Wizard compressor and marine battery – OR – with an MP-15 backpack, which functions as a controller and compressor combined.