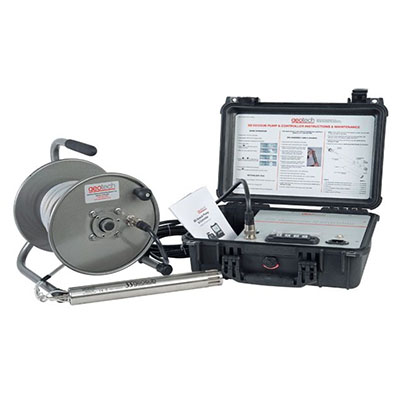 Geotech GeoSub Pump & Controller
$100.00 Per Day
Geotech's Stainless Steel GeoSub Pump is a fully submersible environmental pump designed specifically for use in ground water sampling. Designed with all stainless steel components, the SS GeoSub allows you to sample with confidence even in the harshest well conditions. The SS GeoSub operates with the Geotech SS GeoSub Controller.
The SS GeoSub Controller is designed specifically for use with Geotech's SS GeoSub Pump. It provides a safe conditioned variable DC output power from an AC power source. Built-in sensing gives the operator accurate and precise control over the pump during sampling events. An average 1000 Watt gasoline powered generator with 1 gallon of gasoline can operate the SS GeoSub Controller and Geotech's sampling pump at full power for up to 18 hours continuously (generally much longer runtimes can be expected as the controller is used to reduce water flow for low-flow sampling).
Optional Drop Tube assembly housing and intake extend the reach of the GeoSub pump up to 500 feet, allowing you to place the intake into a deeper screened part of the well.  Customize to each well by cutting tubing to length.
Note:  Pump must stay submerged below the static water line even with drop tube attachment.