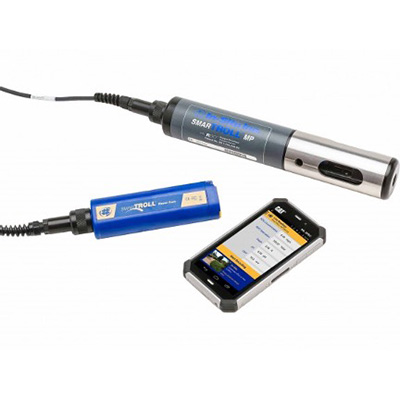 In-Situ SmarTROLL
$100.00 Per Day
Multiparameter probe that measures water quality including:
DO, Temperature, pH, ORP, Conductivity, Salinity, Total Dissolved Solids, Seawater Specific Gravity and Water Depth.
The smarTROLL Multiparameter Handheld system allows you to instantly collect data on 14 water quality parameters, all from your Android™ or iOS™ mobile device. Our reliable water quality sensors record conductivity, pH, ORP, dissolved oxygen, water level/pressure, salinity, total dissolved solids, resistivity, density, air and water temperature, and barometric pressure, sending data wirelessly to your smartphone or tablet. Simply connect the SMARTROLL MP Probe to a battery pack or power pack, launch the mobile app and start reading results. No warm-up time or tedious setup. The mobile app guides you through spot checks, calibrations, and data management.